05/08/2022
|
Categories: Casino Guides |
Published by: BTCGOSU |
Last updated: 05/08/2022
Yes, after a two-month hiatus, here is another site-specific article. You know, one where we look at distinct aspects of a crypto casino. A mini-review of sorts. We kicked off this series last year, explaining to all our patrons how BetFury staking works, then we moved on to analyzing aspects of Stake.com. In June 2022, we started a planned pile of articles concerning RioBet. Now that we have some time to return to these analyses, we decided not to finish our RioBet in-depth scans, given that that platform has moved out of our top ten rankings for the time being. Instead, we have chosen to focus on one of our mainstays, Wolf.Bet.
If you have been visiting our site since our launch, you know that Wolf.Bet crypto casino has been a BTCGOSUS favorite from the moment we got up and running. In fact, it likely has never left our top Bitcoin casino standings and remains our preferred provably fair gaming site.
This Curacao-based HDS Technologies casino, established in 2019, is an Antillephone-regulated hub that has gotten RNG certified by iTech Labs. That is a leading testing and certification laboratory operating from Australia, active in this sector since 2004. We love Wolf.Bet because it is all about no-fuss gaming. It has long moved away from its provably fair roots, as this site now boasts a library of over four thousand slots, but it still has its original niche crypto charm.
Wolf.Bet may not have a reputation as the most generous online casino out there regarding promos offered. Yet, most experienced players have likely heard of its VIP program, which we analyze in the sub-headings below. So buckle up and get ready to learn why it pays to play at Wolf.Bet.
The General Ins & Outs of the Wolf.Bet VIP System
Okay, so there is nothing overly complicated about how Wolf.Bet's VIP program functions. It is your run-of-the-mill crypto casino loyalty scheme. There are six levels in this system, and you ascend this six-tier ladder via your betting activity. The system levels are:
Hunter
Warrior
Lead Warrior
Delta
Beta
Alpha
Naturally, the names of these levels allude to a hierarchical structure in wolf packs. Biology dictates that in animal social groups, a dominance hierarchy exists, with the highest-ranking creature at the top of this pyramid earning the distinction of alpha. Those below it get the label beta attached. However, despite popular belief, there is no such thing when it comes to wolf packs. Alphas do not exist, and the researcher that coined this term attempted to clear up this confusion over twenty years ago, but this myth refuses to die.
To enter the first level of Wolf.Bet's VIP pack, you need to wager $10,000. When you do that, you will become a Hunter and gather food for the pack or track down creatures that appear threatening. That will earn you a Rakeback of 10%, plus a level-up bonus code that opens the door to some free-play funds.
To reach the Warrior level, become one of the protectors of the pack and enjoy a Rakeback of 11%, you need to bet over $50,000 on this platform. To lead the warrior group, you must wager more than $200,000 (12%), and to be third in command as a Delta, a total bet tally of a cool million gets required, which provides a 13%. The Beta honor gets attained by betting five million on this site (14%), and to be an Alpha, you must have wagered over ten million here. That gets you a 15% Rakeback and a level-up bonus code, the same combo supplied in the previous tiers, only far more generous here.
The level-up rewards are as follows:
Hunter – $5
Warrior – $25
Lead Warrior – $100
Delta – $500
Beta – $2,500
Alpha – $5,000
Wolf.Bet Rakeback Explained
HDS Technologies N.V. promises that they calculate a fair Rakeback percentage for its VIP players using their attained VIP level and overall turnover. Each time you wager on this interactive gaming hub, your Rakeback sum changes as it gets taken out from your game's house edge.
What are the house edges on Wolf.Bet games, you may wonder? Well, they are 1% for the proprietary hi-lo and dice games. So, if you are a Hunter-level VIP (10% Rakeback) and bet $10,000, you will get $10 back. How does that work, you ask? Well, $10,000 * 1% * 10% is $10.
Dice is the original Wolf.Bet provably fair pick, hosted here since the site's launch, while hi-lo is a recent addition, added when this casino began expanding its game arsenal to include third-party slots. According to many, a necessary move for it to remain competitive in the ever-changing online gaming landscape.
Note that Rakeback gets calculated and paid out daily here, factoring in every wager you make on this site.
What Is Wolf.Bet's Daily VIP Wheel?
It is a chance to earn additional loyalty benefits. Every day, you will get an opportunity to spin the VIP Wheel and snag extra gaming coins. The mechanics in play utilize your profit/loss ratio and your past turnover. Also, once in a while, a lucky rotation on this wheel will see its rewards magnified by up to x5.
Think of it as a loot/mystery box. You don't know what you'll get with it. There is a complex mathematical formula behind it. We can only tell you that it uses your incurred losses to figure out the prize it will give you. You can get a VIP Wheel bonus daily for each coin, but you must bet over $10 to activate the wheel. The cool thing about it is that it should be available forever, as long as this VIP program is running.
Weekly Wolf.Bet VIP Bonus Sessions
Every week, at the end of the week, this platform hosts a weekly promo session, where perks get awarded to VIP players, again, based on the losses incurred. Parties interested in snagging these should open the Bonus Code page on Fridays to see what prize Wolf.Bet casino has prepared for them.
Go to WOLF.BET nowGo to WOLF.BET now
Relevant news
A Guide to RioBet's Promotions
As you likely know and have come to expect, here is another detailed examination of…
read more +
An Exploration of RioBet's Game Library
Okay, so here is the deal. If you are a member of the BTCGOSU community,…
read more +
A Rundown of BC.Game's Withdrawal/Deposit Options & Features
Those that have been following our series of BC.Game articles have likely gotten familiar with…
read more +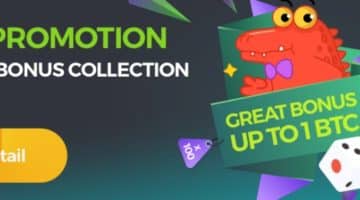 A Breakdown of BC.Game's Casino Promotions
And we continue our streak of BC.Game articles analyzing different sections of this platform. We…
read more +
An Analysis of BC.Game's Sportsbook
You may have noticed that we have decided to do separate articles on various facets…
read more +
How to Create a BC.Game Casino Club
There are multiple reasons why we have BC.Game ranked as the best crypto casino on…
read more +