05/06/2022
|
Categories: News |
Published by: BTCGOSU |
Last updated: 05/06/2022

We at BTCGOSU are in a celebratory mood and of course, we want to share our joy about our two-year anniversary with our GOSU users!
That's why we've teamed up with one of our best partners, WOLF.BET, and put together a special anniversary slots event with $1000 in prize money!
How about a super cool Slots contest for our anniversary, where you simply share your wins on our website for a shot at your share of a $1000 prize? BTCGOSU and WOLF.BET want to celebrate with you and what would be cooler than a Slots Big Win Contest with $1000 prize money, split among five players!
All you need to do is show us your biggest wins on WOLF.BET by adding them to our Win Images section. Please add a little info in the description (content) field, including the term "GOSU WOLF.BET Anniversary Slots Contest" and your WOLF.BET username. All registered BTCGOSU users will be able to give their favorite wins a thumbs up. The winners of this contest will be based on the number of likes received, the win with the most likes getting the main prize, etc. – it is as simple as that!
How the GOSU WOLF.BET Anniversary Slots Contest works
Login (BTCGOSU account) – register an account if you do not have one
Navigate to your account page and click on the "Add new image" / resp. "Add new video" button
Fill out all required fields, and upload an image of your win on WOLF.BET (including required information for this contest as stated above)
Prize structure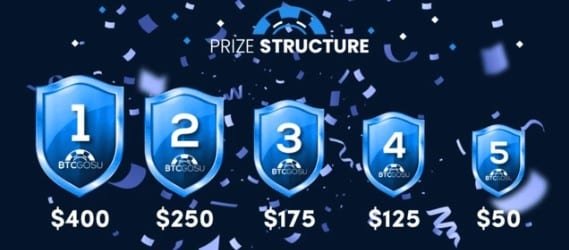 Rules
The contest will be running from 06.06.2022 until 12.06.2022
Players can only win one prize (upload as many wins as you wish for bigger chances but you can only win one prize)
The winners will get paid the prize money in their WOLF.BET accounts within 24 hours
We reserve the right to refuse entries for this contest
In case of a draw (multiple users with same number of likes), BTCGOSU will choose the winner(s)
Only real money wins will count towards this contest (No demo, play money games)
Players do not need to be GOSU referrals on WOLF.BET in order to participate and be eligible for the prizes
Attention: By participating in this contest, you will still also be eligible for our GOSU Weekly Wins Challenge.
Good luck GOSUS!
Go to WOLF.BET nowGo to WOLF.BET now
Relevant news
BC.Game: Deposit Bonus Promotion launched
BC.Game just launched a new deposit bonus promotion and we are very happy about it…
read more +
Crashino: Cashback Promotion introduced
Good news from Crashino, which is becoming increasingly popular among our players. Crashino has just…
read more +
OneHash & Cyberdice are closing down their services
OneHash & Cyberdice, two established and relatively old crypto gambling sites, are going to close…
read more +
GOSU Slots Multiplier Telegram Challenge #21
It`s time for a GOSU Telegram challenge – all you need to do is spin…
read more +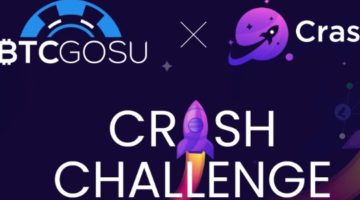 GOSU Crashino Crash Challenge with $500+ prize money
We have partnered with Crashino and bring you our first GOSU Crash event ever! If…
read more +
AffPapa iGaming Awards 2022 – Vote for BTCGOSU
We can't mention enough how proud we are to be nominated in two categories at…
read more +