21/04/2022
|
Categories: News |
Published by: BTCGOSU |
Last updated: 21/04/2022
As anyone who frequents our site or is active in the BTCGOSU Telegram group knows, we are trying to build a sense of community here. Thus, praise from our loyal followers and active BTCGOSU community members means everything to us. Still, sometimes, it is also nice to get some international award consideration/recognition. On that note, it is with great excitement that we announce that BTCGOSU has gotten nominated for the Crypto Affiliate of the Year honor at this upcoming virtual AffPapa iGaming Awards.
AffPapa is a two-year-old interactive gaming directory based in Estonia that aims to facilitate industry member connections. It currently works with over one thousand affiliates, one hundred and fifty operators, and countless media partners. They seek to provide advanced tools and filtering options for quick searches, helping operators and affiliates swiftly strike suitable deals and collaborate on a one-on-one basis.
In 2022, they will be running their first AffPapa iGaming Awards, where they will celebrate the most impactful sector players worldwide. Yes, BTCGOSU's name now ranks among such elite brands as it has gotten chosen to be in the running for the Best Crypto Affiliate of the Year title, which is one of twenty nomination categories where operators and affiliates vie for various coveted honors.
After months of preparation, AffPapa released the nominees a few days ago. The voting process has gotten slated to commence on May 23rd, with the winners getting announced a week later, on June 1st. All this will happen online, but the winners will get their physical awards on July 5th. The event will get promoted across all AffPapa channels. In a statement, the company's Head of Commercial, Yeva Avagyan, proclaimed that AffPapa sees these iGaming Awards as an opportunity for industry players to come together and celebrate one another.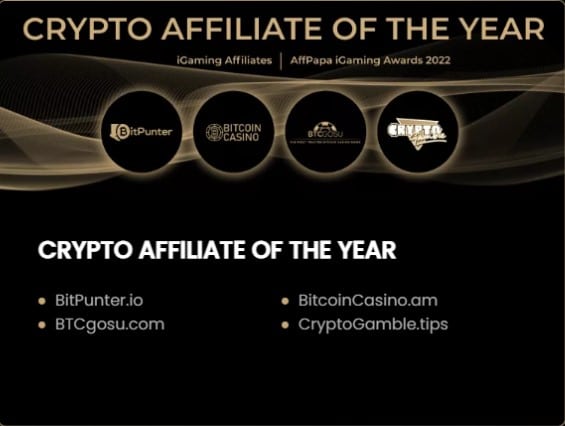 We must say, it is thrilling to enter the top affiliate mix in such a short time. We have been getting loads of love from visitors and on social media, but it is now that other industry brands are publicly showing that they are taking note of what we are doing and are commending us on our efforts.
We cannot wait to see what will happen on June 1st. So, keep your fingers crossed for a BTCGOSU win.
Relevant news
Playbetr: $10,000 Slots Promotion
Starting on April 25th, Playbetr is going to host a casino leaderboard promotion with a…
read more +
GOSU 500 Casino $250 Giveaway
BTCGOSU teamed up with 500 Casino to bring you an amazing $250 GOSU 500 Casino…
read more +
Crashino: Easter Bonushunt with special bonuses every day
Join the Easter Bonus Hunt at Crashino starting today and running until April 17th, 2022.…
read more +
Sandbox Casino: 1 BTC Giveaway
We recently reviewed and added Sandbox Casino to our website. Now is the time to…
read more +
Winz.io crypto casino now accepts Tron and Binance Coin (BNB) as payment methods
Tron and Binance Coin (BNB) are the latest forms of cryptocurrency that have been made…
read more +
Crashino: Space Punks Club NFT Giveaway
Crashino already gave away a cool NFT in March but they would not be stopping…
read more +